At first glance there would seem to be absolutely loads of reasons why therapists fall out of practice and I bet, as a therapist in private practice, you can relate to all of them at one stage or another along the way. Discovering the one reason why you feel doubtful...
read more
Two to three days ago I stood in my bathroom, bare topped and was intending to look, from the side, at how my hair sat pulled up onto my head. I had a business meeting in London where image was important.  As I turned side on with a mirror in my left hand to reflect...
read more
Listen to my next guest speaker, Patrick Dieter, talk about his inspiring work with addiction. With his own spiritual awakening he seeks to awaken in others the desire for happiness free of the mask of addiction.
read more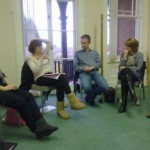 It is with great pleasure that we launch the New Year with the news that, though only 2 were in attendance at last Friday's supervision/CPD day, 4 of my CPDers and Supervisees have received their Read Your Client Foundation Diploma in Counselling and Psychotherapy. ...
read more